UTL800
$34.99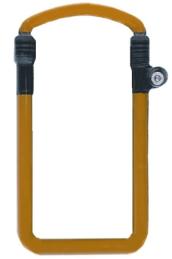 The Club Utility Lock is great for securing golf carts, ATV's, scaffolding, ladders, gates, patio furniture, garden tools, power tools, trailers, motorcycles and thousands of other items.

To secure your golf cart, simply attach the utility lock from the steering wheel to the roof post. If a thief can't steer it, he can't drive it, thus preventing theft.


Length adjusts from 13 ¾ inches up to 20 ¼ inches. 6 ¼ " Wide.
Extra heavy duty construction withstands over 1,500 lbs. of pressure
Easy to use
Weather Resistant
Replaces Chains & Padlocks
Patented Design
Vinyl Coated
Cro-moly Steel
NOTE, THESE ARE IN CONTRACTOR PACKAGING. (PLAIN BROWN BOX) THEY ARE NOT SUITABLE FOR RETAIL SALES
Other products in the category Utility Locks:


Bike Club Block -- Attaches to your bike to easily and safely carry your Bike Club.
Compact Bike/Utility Lock -- The Compact Club Bike/Utility Lock is great for securing bikes and thousands of other items. Length adjusts from 5 1/2 inches up to 7 inches. 2 1/2" Wide. Extra heavy duty construction withstands over 1,500
Keyed Alike Utility Lock -- Keyed Alike Utility Lock. Each lock you order will us the same key.The Club Utility Lock is great for securing golf carts, ATV's, scaffolding, ladders, gates, patio furniture, garden tools, power tools, trailers, motorcycles and thousands of other it
Utility Lock (regular) -- The Club Utility Lock is great for securing golf carts, ATV's, scaffolding, ladders, gates, patio furniture, garden tools, power tools, trailers, motorcycles and thousands of other items. To secure your golf cart, simply attach the utilit
StoreFront
the club
lock
vehicle
car theft
auto theft
anti theft
security
automotive security
steering wheel lock
padlock
vehicle theft
deterrent
immobilizer
hardware
Winner International eCommerce Platform by
Nexternal